Avail Customer Care 24X7 to Troubleshoot Software Issue
Companies strictly believe that availability and customer services come first before anything else. Thus, if you are using Split PST software you might come across problems, our support department takes away all your problems and provides you with accurate answers.
Support Team-Simply Provide You Out-and Out Help:
Our out and out responsible technical support department provides you with apt answers whenever you feel need. You can ask for help via either online chat or sending mail.
How much they are occupied with work, they will first clear your doubts and get you with easy and comfortable process.
Our support team accept all your feedbacks, if you suggestions for improvement in the software, we are ready to accept and try to implement as soon as possible.
Support team also give you free updates in the software so that you can make maximum benefits of the added functionalities and already existing features in the software.

Click on the above live chat button to start live chat online.

Call Us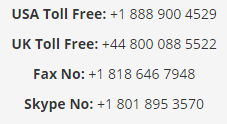 Mail Us